SPRING Students
Students service
For our SPRING students in Dortmund we offer various services. Here are some examples:
taking care of the visa process
registration and checkout at the city council and university
opening a bank account
organising appointments related to the studies
finding English speaking doctors in and around Dortmund
Students are requested to contact our student assistants or our sectrary, who will take care of their concerns. In urgent cases, students can visit us on Campus South in GB I, 3rd floor, rooms 409 and 408.
There are various libraries on the campus of TU Dort­mund Uni­ver­sity. The main library (Zentralbibliothek) is located on Campus Nord, directly between the S-Bahn station and the main cafeteria (Hauptmensa). It offers you a PC pool (free of charge), scanners (free of charge) as well as printer and copy stations (chargeable). Students can borrow books from the library without costs. If you are looking for a book that is not available, you can either request a purchase to the library or see if it is available in other libraries and order it from there (Fernleihe) for an additional charge of 1,50 €. The main library is open Monday to Friday from 7:00 to 1:00 and from 9:00 to 1:00 on Saturday and Sunday. The library for Spatial Plan­ning is located on Campus Süd on the 4th floor of the GB I building. It is open on Monday to Friday from 8:00 to 18:00. You can also find the library for Architecture and Construction Engeneering on Campus Süd. It is located in GB I, room 201 and open on Monday to Friday from 8:00 to 18:00. You can also use the library for Humanities and Social Science at Emil-Figge 50 on Campus Nord. It is open from 8:00 to 20:00 on Monday to Friday and 9:00 to 16:00 on Saturday.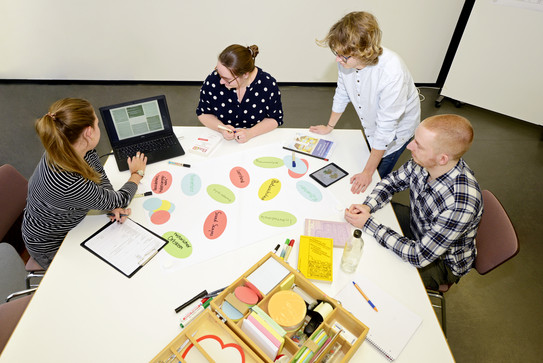 Every library mentioned above offers work places for individual studying. The main library on Campus Nord also offers spaces for group work on the ground floor. Besides the libraries, you can also use the Se­mi­nar­raum­ge­bäu­de (Friedrich-Wöhler-Weg 6) on Campus Nord which offers around 485 work places. In the GB III on Campus Süd, first floor and 4th floor, you find a limited number of places for group work or individual studying.
The International Office assist you with various matters like admission & registration and also offers social counselling for in­ter­na­tio­nal students. Please find the office hours here.