Dean's Office
ReproCenter
The ReproCenter is affiliated with the Dean's Office and is a service facility at the Department. Here, students can have plots made for lectures, 3D models printed, or receive assistance in digital media design. A photo service is available for employees, and departments can have all kinds of images produced.
Two large format printers with a print width of 114 mm are available. The HP DesignJett Z9 works with 9 colors and the HP PageWide XL with 4 colors. The printers are used for high-quality photo prints as well as for CAD plots.
The ReproZentrum is not responsible for the content of the print data and is not liable for spelling or graphic errors.

Please note that only formats larger than DIN A3 can be printed with us.
Paper Type

Format / Price

A2

A1

A0

90 g/m² CAD Paper

2,00 €

2,50 €
5,00 €

180 g/m² Cardboard

6,00 €
12,00 €
Photo paper satin
10,00 €
20,00 €
180 g/m² tarpaulin canvas (B1)
17,50 €
25,00 €
Adhesive vinyl film
17,50 €
25,00 €
*For legal reasons, the processing of private sales that are not related to studies at the TU Dortmund University is not permitted.

| Article | Price |
| --- | --- |
| Sketch paper | 12,00 € |
| Cutter | 1,50 € |
| Spare blades cutter | 1,50 € |
| Scissors | 0,30 € |
| Ruler (30 cm) | 0,30 € |
| Set square | 0,50 € |
| Wooden board (30 x 30 cm) | 2,00 € |
Have your models realized in our Ultimaker 3D printers! Currently, two Ultimaker 3's are in operation. Their maximum print size is 185x185x200 mm (WxHxD). In addition, two Ultimaker S5 are available. These have a larger print area and can therefore print models with a maximum size of 310x220x300 mm (WxHxD).
The cost of a print is €0.15 per gram.
Payment methods
Please note that payment by UniCard is no longer possible. Payments can only be accepted by debit card, credit card (except American Express), Apple- and Google-Pay, V-Pay!
TU Dort­mund University
Department of Spatial Planning
ReproCenter
South Campus, Building III, Room 3.501-502
August-Schmidt-Straße 10
44227 Dort­mund
Germany
Location & approach
The facilities of TU Dortmund University are spread over two campuses, the larger Campus North and the smaller Campus South. Additionally, some areas of the university are located in the adjacent "Technologiepark".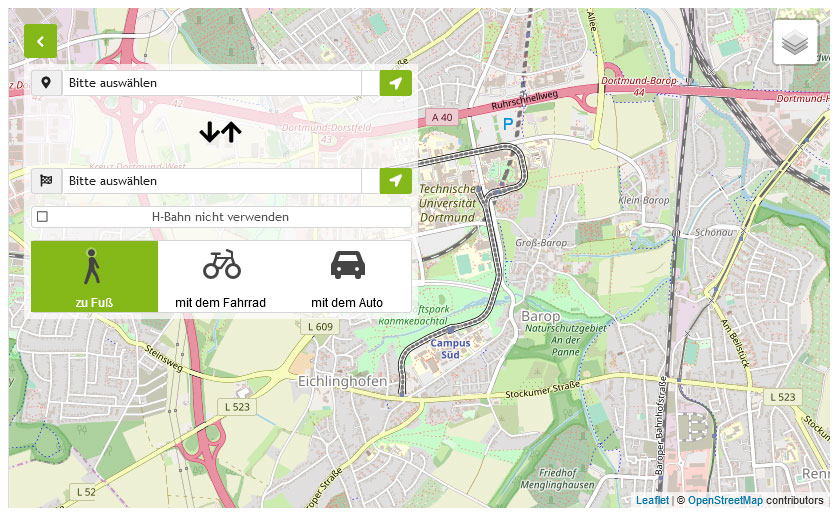 Zum Lageplan