Prospective SPRING Students
Cost and Funding
Costs
The arising costs for the entire study differ depending on the respective second year SPRING partner university. A detailed compilation of costs and expenses can be downloaded here.
DAAD EPOS Scholarship
A limited number of scholarships are awarded to prominent/outstanding SPRING candidates from developing countries on a highly competitive basis from the German Academic Exchange Service (DAAD). DAAD Scholarships cover the entire two-year SPRING Programme.
The selection of qualified candidates is jointly taken by SPRING and DAAD and requires the following documents (taken from the EPOS brochure "Development-Related Postgraduate Courses"):
Signed DAAD application form with current date; when applying, please tick the third pro­gram on the first page ("Study scholarship for a postgraduate course with relevance to developing countries").
Personally signed CV (please use the sample europass form at europass.cedefop.europa.eu) with current date
Personally signed Letter of Motivation (with reference to current occupation and choice of postgraduate pro­gram(s), two pages maximum) with current date.
IMPORTANT:
When applying for more than one postgraduate course (maximum 3 courses), you have to submit one motivation letter explaining why you are applying for these specific courses and why you chose that priority.
Letter of recommendation from your current employer; the letter must have letterhead, a signature and official stamp and must be of current date (not in a sealed envelope)
Certificate(s) of Employment from the employer(s) that proof a minimum of two years of rele-vant working experience (after the bachelor degree) at the time of application and if possible, a guarantee of re-employment from your current employer upon returning home.
Proof of English Language Skills – IELTS or TOEFL (Note: The institutional TOEFL is not accepted)
Copies of Academic Degrees (certified translation if necessary)
Copies of Academic Transcripts, incl. grading-scale (certified translation if necessary)
Applicants from the People's Republic of China are asked to submit an APS Certificate with their application documents.
All further information can be found in the EPOS brochure "Development-Related Postgraduate Courses".
Please note that the DAAD EPOS scholarship is not applicable for Chile.
Funding
Because admission to the SPRING Programme does not automatically include an award of a scholarship, we advise applicants to seek for financial support from their own countries or from international donors.
For international applicants: Please find a list of potential donor organisations here
For German applicants: Please find a list of potential donor organisations here
or search for a scholarship in the DAAD scholarship database here
Payment of Service Fees
If you are a "self-financed" participant or receive a scholarship from a non-DAAD funding organization you are requested to
transfer the service fee (550,-€) once you have received the invoice from TU Dortmund University
submit a statement of regular income of yourself or a private sponsor together with a declaration that she or he will finance your entire studies (TU Dortmund University as and 2nd year University) or a copy of your scholarship award
transfer the matriculation fee to the TU Dortmund University before semester start and
you have to transfer the academic expenses which arise for the selected second year destination to the respective SPRING partner university before the start of the second study year
Location & approach
The facilities of TU Dortmund University are spread over two campuses, the larger Campus North and the smaller Campus South. Additionally, some areas of the university are located in the adjacent "Technologiepark".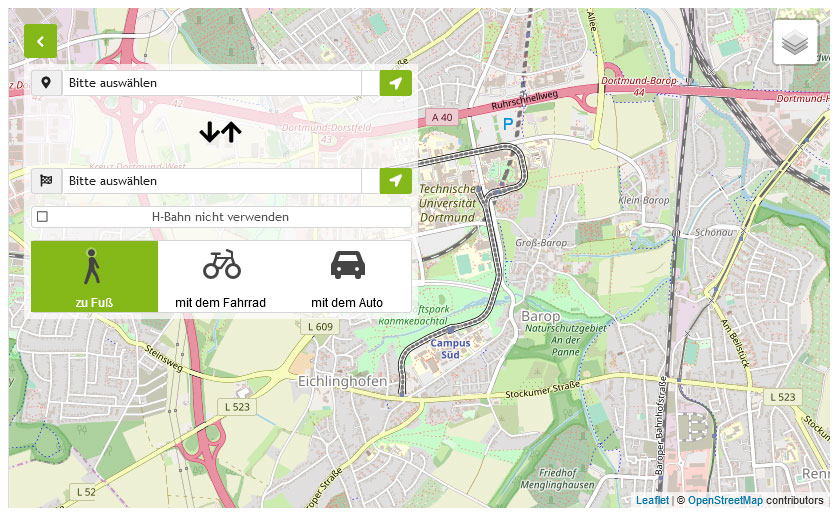 Zum Lageplan