Committee for study and teaching (KSL)
The Commission for Student Affairs and Teaching deals with the content-related aspects of student affairs. Improvements in the attainability of the degree courses, the awarding of credit points for individual modules or the further development of the projects are topics that are dealt with in this committee.
Committee for Quality Improvement Funds (QVM)
The Commission for Quality Improvement Funds votes on the progress reports regarding measures to improve teaching and study conditions. In other respects, it acts by way of self-referral and can, in particular, prepare planning proposals for the ap­prop­riate use of the funds. At the Department of Spatial Planning, these funds are used, among other things, for the study and proj­ect center and to pay tutors. The students have an absolute majority in the commission.
Committee for Computing (EDV)
The EDP commission deals with all questions concerning the technical-electronic equipment of the department. In this committee, for example, the acquisition of 3D printers was suggested.
Equal Opportunities Commission (GleichKom)
The Equal Opportunities Commission ensures that equal opportunity issues at the Uni­ver­sity are respected and further developed. For example, money is provided to enable female students to participate in the Aesop and EURA conferences, with the aim of facilitating women's entry into science.
Information about the Equal Opportunity Commission can be found here (German).
Study Advisory Board
The Student Advisory Board of the Department advises the Department Council and the Dean in matters of teaching and studies, in particular in matters of study reform, the evaluation of studies and teaching, as well as with regard to the enactment or amendment of examination regulations.
Location & approach
The facilities of TU Dort­mund Uni­ver­sity are spread over two campuses, the larger Cam­pus North and the smaller Cam­pus South. Additionally, some areas of the uni­ver­si­ty are located in the adjacent "Technologiepark".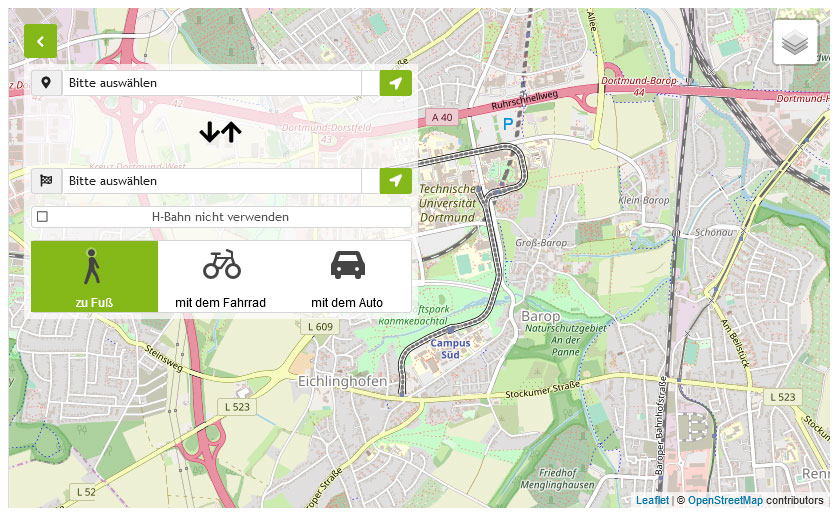 Zum Lageplan