Master in Spatial Planning
Admission & Language Requirements
The M.Sc. Spatial Planning is a one-year pro­gram, which serves especially to prepare students for working in in­ter­na­tio­nal fields of operation in science and re­search, but also in practice-related occupational fields in spatial planning which require a close link between re­search and practice. This approach takes into account the increasing demands of professional practice for scientifically based planning knowledge and for skills in managing large-scale projects on all levels of planning and decision- making in the context of spatial planning as well as skills in managing inter­dis­ci­plin­ary task forces. Students are selected on the basis of their application and their previous education. The minimum entry requirement is a Bachelor or Diploma degree (at least "satisfactory" [3.0]) with at least 240 ECTS in spatial planning or other related disciplines like geography, urban planning or architecture.
Depending on the previous degree, the previous study time, additional courses and if applicable working experience in the field of spatial/urban planning, an application for the Master pro­gram can be granted even with less than 240 ECTS. The Master Admission Board decides individually whether the conditions for the enrolment are given. If it should not be possible to make a decision based on the submitted application documents handed in by applicants from related disciplines, submission of additional supporting documentation might be required. This supporting documentation may include proof of mentioned professional activities realized after the first professional degree as well as additional evidence that helps to determine whether the admission requirements are met or not. Take a look at the details of the admission procedure.
The International Office is responsible for admissions of students who graduated at a school outside of Germany.
Language
A high standard of proficiency in written and spoken English is required:
TOEFL (550 points paper based, 213 computer based, 80 internet based) Please have your TOEFL-certificate sent to the institutional code 8523
or IELTS (6,0)
a diploma from an English-speaking school or an English-speaking course of study
Application schedule
The winter term starts first of October. The summer term starts first of April. Application periods differ according to the term:
15th of March until 15th of July for winter term
Notification of acceptance: End of Au­gust
15th of November until 15th of January for summer term
Notification of acceptance: End of February
Please consider: the earlier you send your application to the International Office, the earlier you will be notified whether your application was successful. If you apply the 1st of June you will not get notification until mid-July!

Location & approach
The facilities of TU Dort­mund Uni­ver­sity are spread over two campuses, the larger Cam­pus North and the smaller Cam­pus South. Additionally, some areas of the uni­ver­si­ty are located in the adjacent "Technologiepark".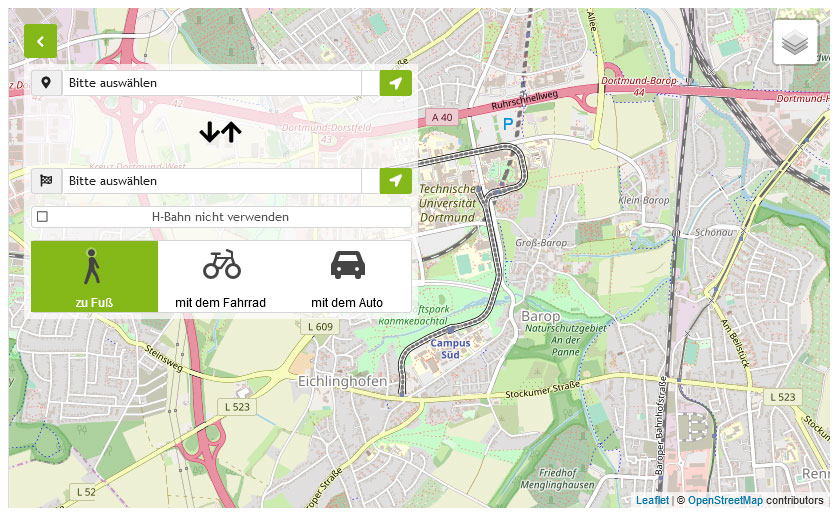 Zum Lageplan