Bachelor in Spatial Planning
Project Study
The core and trademark of the Dort­mun­der Spatial Planning program is re­search-based learning in projects and designs. In study projects and drafts, students work on current spatial planning issues in a practical, inter­dis­ci­plin­ary and scientific manner in groups and under the super­vi­sion of de­part­ment mem­bers. Projects and designs promote the self-motivated, independent, cooperative work of the students and develop their scientific and application-oriented skills. Projects and drafts are worked on continuously and alternately by the students during the course of their studies.
In addition to the technical qualifications, students acquire key competencies in group work: coordination of work processes, presentation, moderation and discussion, taking minutes, consensus building and conflict resolution.
These key competencies are first acquired in the proj­ect groups with 12 to 14 students and then transferred to the work in smaller groups and deepened. Feedback from graduates from the department's graduate surveys (exclusively in German) and the regular series of events, the "Berufsforum" (exclusively in German), confirms the great relevance of the qualifications acquired for professional practice through this form of teaching and learning. The ability to deal with complex issues, to structure work and coordination processes, to quickly familiarize oneself with new fields of work, to work in a team, and to manage work areas are examples of the profile that is developed in the program.
Location & approach
The facilities of TU Dort­mund Uni­ver­sity are spread over two campuses, the larger Cam­pus North and the smaller Cam­pus South. Additionally, some areas of the uni­ver­si­ty are located in the adjacent "Technologiepark".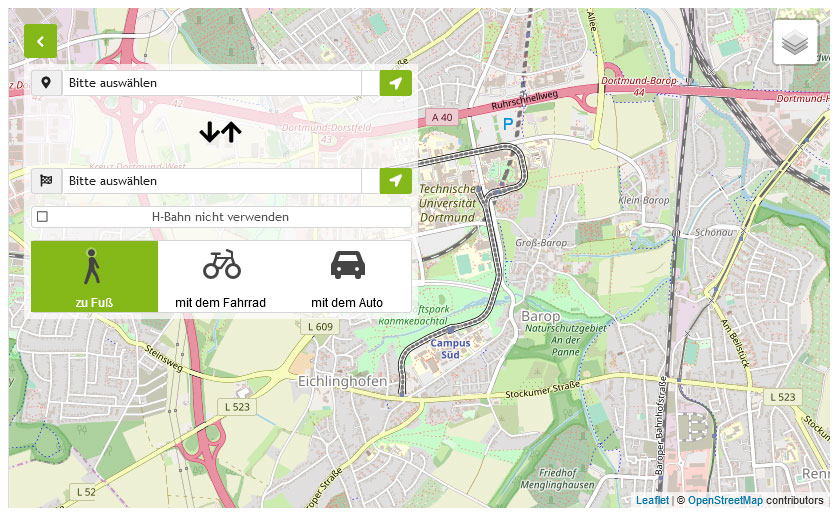 Zum Lageplan