ERASMUS Incomings
Suitable lectures for incoming ERASMUS-students
we are very pleased to welcome you to the Department for Spatial Planning at TU Dortmund University. A final consultation about the available courses in your Dortmund-semester can only take place shortly before the start of the semester. For your overview and for a better planning of your semester abroad you can find an overview of suitable lectures for incoming ERASMUS-Students below.
Economics of Migration - Hellwig, Vanessa
English Urban Planning B2 - Tranter, Geoff
Ruhr Lecture 2021/22 - Wiechmann, Thorsten, Prof. Dr. & Fesel, Katharina, M.Sc.
Microeconomics of Competitiveness: Firms, Clusters and Economic Development
Bochum International Seminar on the Transformation of Urban Spaces (BISTUS X) - Participatory Mapping as a Method and Practice
Growth, Institutions and Development - Hölsgens, Henricus Nicolaas Michael
Comparative urbanism: Theoretical debates and methodological challenges - Imbres, Letizia, Dr.
M 01 - Green Infrastructure and its Impact on the Urban Acoustic Environment - Lawrence, Bryce Timothy , Dipl.-Geogr.
M 04 - Co-production and co-management of public spaces – the case of Germany - Lee, Da Hae & Feiertag, Patricia, Dr. Dipl.-Ing.
The Role of Social Innovation Ecosystems in Processes of Urban Transformation - Zirngiebl, Marthe, M.Sc.
"Growth Management" – Comparative Analysis of Strategies and Policies in Selected Metropolitan Areas - Siedentop, Stefan, Prof. Dr. Dipl.-Ing.
Transport and inequalities - Chidambaram, Bhuvanachithra, Dr. & Mattioli, Giulio, Dr.
Urban climate change adaptation governance and the transformation to sustainable urban governance - Hölsgens, Henricus Nicolaas Michael
Climate Change and Risk Management - Greiving, Stefan, Prof. Dr. & Weber, Anne, Dr.
Transport and Infrastructure - Kaiser, Mathias, Dr. & Scheiner, Joachim, Dr.
Megaprojects - Schramm, Sophie, Prof. Dr.
Urban Governance and Urban Transformation - Zimmermann, Karsten, Prof. Dr.
Location & approach
The facilities of TU Dortmund University are spread over two campuses, the larger Campus North and the smaller Campus South. Additionally, some areas of the university are located in the adjacent "Technologiepark".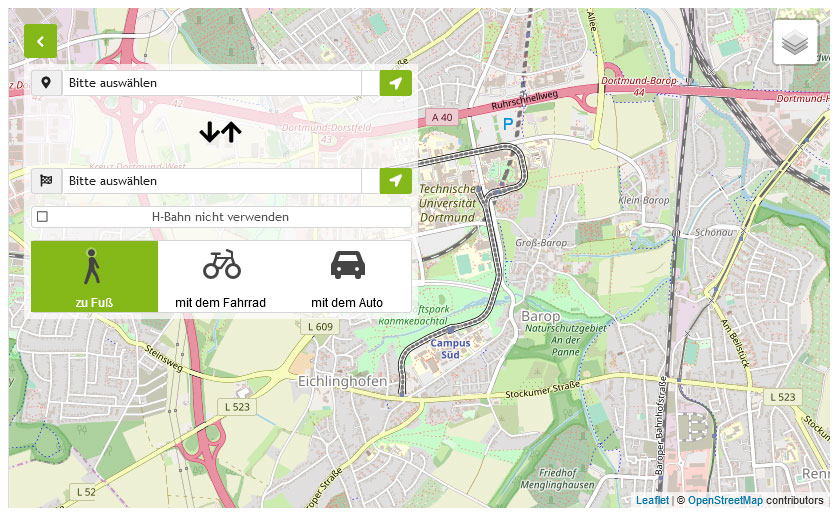 Zum Lageplan