Prospective SPRING Students
Application and Requirements
Temporary acceptance of TOEFL iBT Special Home Edition and IELTS Indicator Test
Due to the current situation, the SPRING admission committee also accepts the proof of language proficiency by TOEFL iBT Special Home Edition and IELTS Indicator Test.
All applications must be submitted in English
The admission committee accepts applications as hardcopies via regular mail or as scanned copies via email
For application, you don't need to submit any originals or certified copies. Simple hard copies respectively scanned copies are sufficient. Nevertheless, translations must be made by a certified translator
When coming to Dortmund, you need to bring the original recommendation letters as well as a certified copy of your university certificate, your transcript of records and your high school certificate. The certified copies of the university certificate and the transcript of records must be presented at the international office, whereas the original recommendation letters and the certified copy of the high school certificate will be kept by the SPRING administration
Admission Requirements
A Bachelor's degree or its equivalent in a field related to Regional or Urban Planning with grades significantly above average
A high standard of proficiency in written and spoken English:

TOEFL (TOEFL iBT score of minimum 80) Please have your TOEFL-certificate sent to the institutional code 8523
IELTS (6,0)

Two years of professional practice is desirable and
A strong commitment to further work in regional development planning
For applicants for a DAAD scholarship: You should not have graduated from university more than 6 years ago.
For German applicants: professional practice in developing countries is desirable
For Indian, Chinese & Vietnamese applicants: TU Dortmund University only accepts applications, if the complete application package with school certificates also contains the original certificate by the Akademische Prüfstelle (APS) of the German Embassy in New Dehli for Indian, in Bejing for Chinese and Hanoi for Vietnamese applicants.
The completed and signed SPRING application form
A typed and signed Curriculum Vitae in Europass format. Please choose the format highlighted in green, which facilitates finding the relevant in­for­mation for the selection procedure.
Copy of uni­ver­si­ty certificate
Copy of the uni­ver­si­ty issued official transcript of courses and grades in­clu­ding an explanation of grades
Explanation of grades (if it is not part of the transcript)
Two relevant letters of recommendation (professional and academic)
Original or copy of proof of English proficiency (TOEFL, IELTS); not applicable for native English speakers
Copy of A-level or high school certificate
Required documents for a DAAD scholarship application:
The DAAD-website explaining which documents have to be submitted for an application to a scholarship for an EPOS degree pro­gram can be found here.
Please check that your application documents are complete before sending them to the pro­gram!
Instructions for the Submission of Applications by E-mail
You are welcome to submit your application for the SPRING Programme by e-mail. To ensure that your application is processed timely, send all required documents as soft copies in PDF format with a total maximum of 18 MB to application.spring@tu-dortmund.de. Make sure that all scans are of good quality and readable.
You may use the subject "Application for intake 20xx" (e.g. intake 2022).
Please name your application documents as follows:
1_SPRING Application Form
2_Europass CV
3a_Bachelor Certificate
3b_Transcript of Records
3c_Explanation of grades (if it is not part of the transcript)
4_Letter of Recommendation Employer
5_Letter of Recommendation Uni­ver­sity
6_English Test Report
7_High School Certificate
If applying for a DAAD scholarship as well please add the following documents:
8_DAAD Application Form
9_DAAD Letter of Motivation
10_Certificate of Employment
Further indications:
Make sure that documents in landscape format are already aligned horizontally.
If you want to attach further documents to your application, please do not number them.
If the files exceed the maximum file size of 18MB you may also compress them into a zip file. Please avoid using Google Drive.
Special Information for German & European Applicants
The SPRING Master Programme always welcomes applications from German and European candidates.
The SPRING Master is a consecutive pro­gram. It is open to applicants with a Bachelor's degree or its equivalent in a field related to Regional or Urban Planning with noticeable focus on developing/emerging countries or respectively developing cooperation.
It would be desirable to provide evidence of planning related working experience.
Furthermore the applicant needs to substantiate experience abroad, for instance through internships in the field of development cooperation (3-6 months).
For everything else, the requirements mentioned above also apply to German & European Applicants.
Location & approach
The facilities of TU Dortmund University are spread over two campuses, the larger Campus North and the smaller Campus South. Additionally, some areas of the university are located in the adjacent "Technologiepark".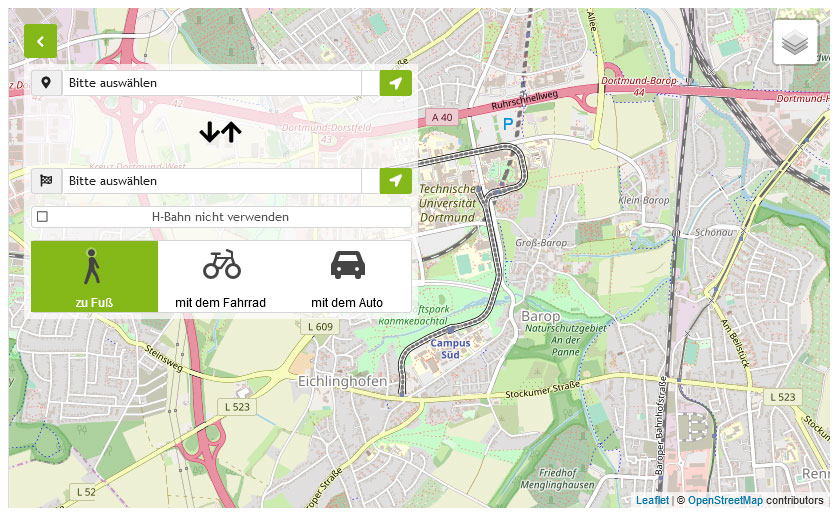 Zum Lageplan