PROSPECTIVE SPRING STUDENTS
Deadlines and Locations
SPRING Application Deadlines at TU Dort­mund Uni­ver­sity
October 1st for international applicants applying for a DAAD scholarship at the same time - intake in the following year
May 1st for applicants with own funds or confirmed scholarships - intake in the same year
Please direct your application to application.springtu-dortmundde or to the postal address
Via regular postal delivery:
Technische Universität Dortmund
Referat Internationales
Emil-Figge Str. 61
44227 Dortmund
Germany
Via express courier, e.g. DHL, fedex, etc.:
Technische Universität Dortmund
Referat Internationales
2. OG, Raum 213
Attn.: Sonja Breiholtz
Emil-Figge Str. 61
44227 Dortmund
Germany
Special Information for Applicants from The Philippines, Ghana, Tanzania, Chile and Brazil
September 15th at partner universities: KNUST, ARU, SURP, UFABC and UACh.
Philippine, Ghanaian, Tanzanian, Brazilian and Chilean applicants must direct their applications respectively to the partner universities in Manila, Kumasi, Dar es Salaam, Sao Paulo and Valdivia for the intake in the following year.
For Philippine applicants
University of the Philippines
School of Urban and Regional Planning (SURP)
Director of Graduate Studies
Diliman, Quezon City 1101
Philippines
surp.graduatestudiesgmailcom
For Chilean applicants
Universidad Austral de Chile
Faculdad de Ciencias Economicas y Administrativas / MEGR
Valdivia
Chile
springuachcl
For Brazilian applicants
Federal University of ABC (UFABC)
Pró-Reitoria de Pós-Graduação/SPRING
Alameda da Universidade, s/n
São Paulo
Brazil
springufabc.edubr
For Tanzanian applicants
Ardhi University
School of Spatial Planning and Social Sciences
The Coordinator of the SPRING Programme
P.O. Box 35176
Dar es Salaam
Tanzania
springaru.actz
For Ghanian applicants
Kwame Nkrumah University of Science and Technology (KNUST)
Department of Planning
The Director of the SPRING Programme
Kumasi
Ghana
spring.capknust.edugh
Location & approach
The facilities of TU Dortmund University are spread over two campuses, the larger Campus North and the smaller Campus South. Additionally, some areas of the university are located in the adjacent "Technologiepark".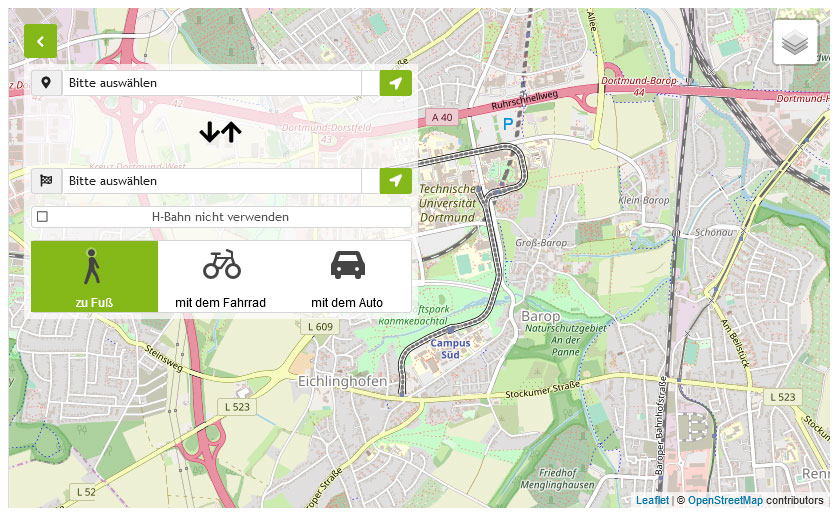 Zum Lageplan