Welcome to the Department of Spatial Planning at TU Dort­mund Uni­ver­sity. We look forward to meeting you on campus soon. Feel free to get in touch with the Welcome Office for in­ter­na­tio­nal students or with the ERASMUS-Office, in case you miss any in­for­mation. If you prefer getting assistance in another lan­guage than German or English, you can get in touch with one of our in­ter­na­tio­nal contact persons.
The Department of Spatial Planning
Spatial planning is an inter­dis­ci­plin­ary field of re­search and practice that is influenced by engineering and social science, dealing with the different demands of society on the built and unbuilt environment. In 1968 the history of spatial planning began in Dort­mund as an independently institutionalized discipline. Half a century after its founding, the Department of Spatial Planning at the TU Dort­mund Uni­ver­sity is one of the largest planning science in­sti­tu­ti­ons in Europe and has been the strongest re­search Department in Germany for years.
Our 18 re­search groups offer a wide breadth and depth of content, so that interdisciplinarity lives not only in re­search projects with other sci­en­tists, but also in re­search and teaching here at the de­part­ment. In addition to interdisciplinarity, our courses are strongly oriented towards the concept of re­search­based learning, at each stage the study is enlivened by im­por­tant practical elements of proj­ect study.

Location & approach
The facilities of TU Dort­mund Uni­ver­sity are spread over two campuses, the larger Cam­pus North and the smaller Cam­pus South. Additionally, some areas of the uni­ver­si­ty are located in the adjacent "Technologiepark".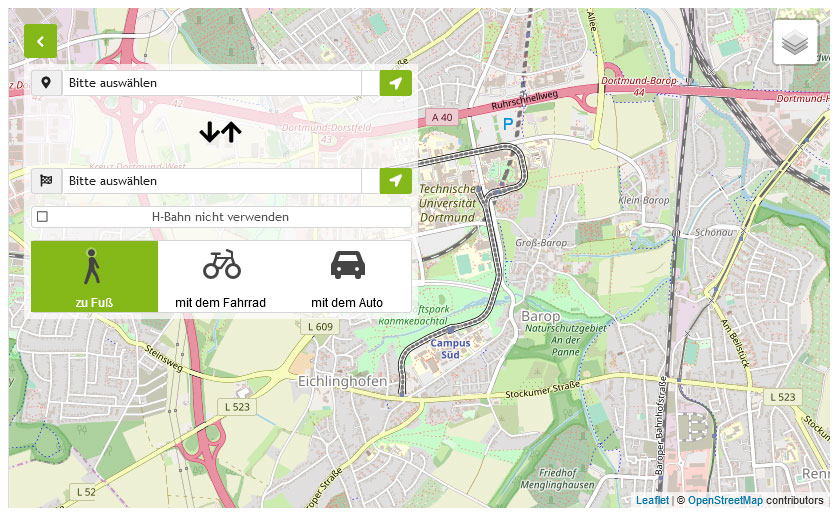 Zum Lageplan