Study
Master of Science in Spatial Planning
The one-year M.Sc. program at TU Dort­mund Department of Spatial Planning aims to attract highly qualified students, wishing to learn more about in­no­va­ti­ve strategies to transform cities and regions at a location offering brilliant in situ conditions to understand the complexity of governance and planning. The program builds upon a bachelor program in spatial planning, as established at our de­part­ment. The philosophy of the Master program is based on the understanding of planning as a multi-disciplinary discipline.
The Master's degree in Spatial Planning prepares students for a management function in practical professional fields of spatial planning as well as for professional activity in in­ter­na­tio­nal fields and in science and re­search. The Master's program qualifies students for the increasing demands on scientifically sound planning knowledge in professional practice and provides the ability to organise and control planning projects at all planning and decision-making levels as well as to lead inter­dis­ci­plin­ary working groups.
On the following pages you will find all relevant in­for­mation for the Master of Science regarding the modules, Master projects and Master de­sign studios, the transition from B.Sc. to M.Sc. as well as the master thesis.
Location & approach
The facilities of TU Dort­mund Uni­ver­sity are spread over two campuses, the larger Cam­pus North and the smaller Cam­pus South. Additionally, some areas of the uni­ver­si­ty are located in the adjacent "Technologiepark".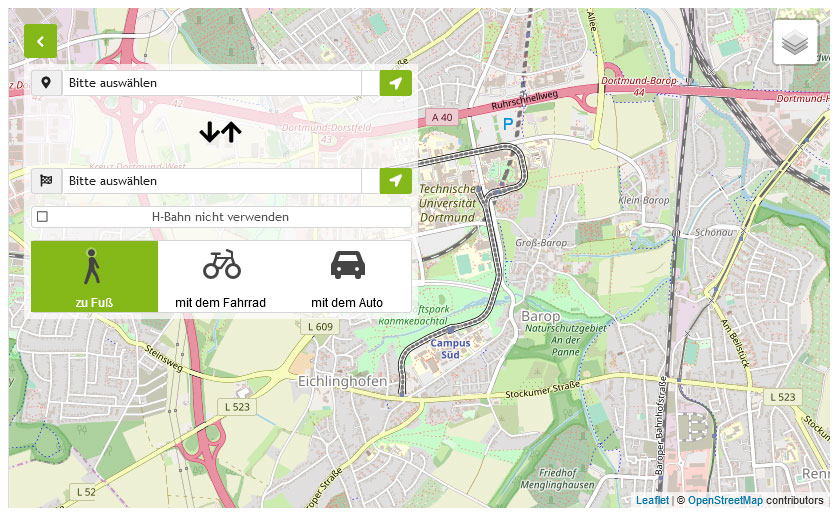 Zum Lageplan