Contact persons
Room booking
Students, staff and employees of the department can view room reservations via the LSF portal. To do this, the room number must be entered under Rooms and Buildings / Room Occupancy, and then the corresponding week can be selected. In this way, free rooms can be found for the desired date.
Booking of project and seminar rooms
The project and seminar rooms of the Department of Spatial Planning are managed by the Study and Project Center (SPZ).
The booking is made exclusively by e-mail to stundenplan.rptu-dortmundde with the following information:
| | |
| --- | --- |
| Who? | Responsible (teaching) person or project |
| For What? | Title of the event or booking |
| When? | Exact time: date, time (start and end) Frequency |
| How many? | Expected number of people |
| Where? What is it? | Concrete room request or, if applicable, special requirements for the room |
Requests are processed at short notice and a suitable room is booked and reported back by e-mail. All bookings are visible via the LSF portal.
For centrally administered lecture halls and seminar rooms at other departments, the contact for reserving individual dates or block events is Department 6 of the TU Dortmund (booking via LSF).
Location & approach
The facilities of TU Dortmund University are spread over two campuses, the larger Campus North and the smaller Campus South. Additionally, some areas of the university are located in the adjacent "Technologiepark".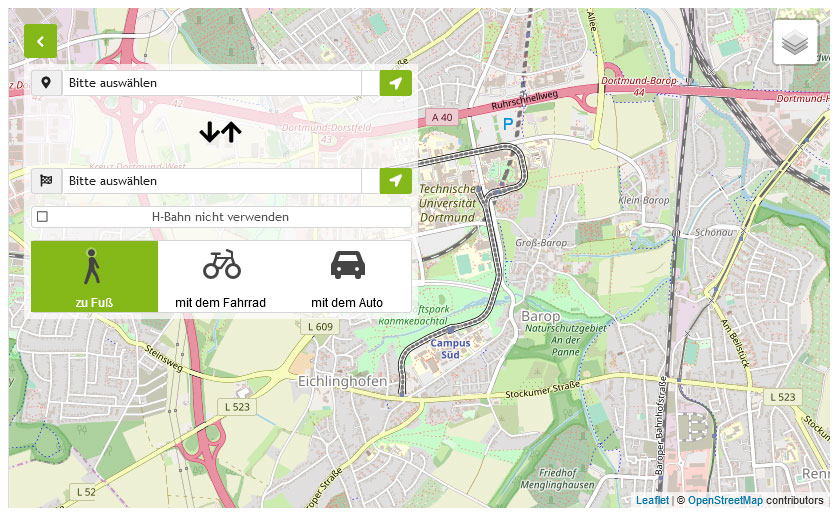 Zum Lageplan