SPRING NEtwork
TU Dortmund University - Dortmund, Germany
TU Dortmund University -founded in 1968- developed a unique profile uniting technical and social studies and offers innovative programmes throughout all faculties. All scientific disciplines share a common university spirit in which interdisciplinary, communication and cooperation are not only taught, but also actively lived. This interactive culture creates a supportive environment that sparks technological innovation and drives progress in methods and knowledge. With nearly 34.600 students in 2018 (11% international students) the university ranks among the 15 biggest universities in Germany.
The Department of Spatial Planning at TU Dortmund University, founded in 1969, has grown into one of the largest educational establishment of its kind in Europe, according to the number of students and the range of topics. In 2017, 1382 students (10% international students) enrolled in the Department of Spatial Planning. The department sustains the interdisciplinary character of the university combining different approaches on spatial planning and including various fields of the subject in its teachings. It hosts 15 faculties with different foci on teaching and research. The Department offers a Bachelor and a Master of Science in Spatial Planning, as well as the Master of Science SPRING in Regional Development Planning and Management. Graduated students work in different disciplines such as urban development, property economics, transport planning or housing, as well as different spatial and governmental levels, such as the neighborhood, district, city, region, state, the European or international level.
The Department has established itself as an important research facility and focuses on two different research clusters, each subdivided into two fields: (1) Design of Metropolitan Areas: -Transformation and design of polycentric city regions, -Land use planning and urban development in the global south and (2) Challenges of Spatial development: -Climate change, energy transition and spatial planning, -Mobility, migration and socio-demographic change.
TU Dortmund University
Department of Spatial Planning
SPRING Programme
44221 Dortmund
GERMANY

Phone: +49 231 755-2543
Fax: +49 231 755-4398
Email: spring@tu-dortmund.de
Homepage: www.tu-dortmund.de
Location & approach
The facilities of TU Dortmund University are spread over two campuses, the larger Campus North and the smaller Campus South. Additionally, some areas of the university are located in the adjacent "Technologiepark".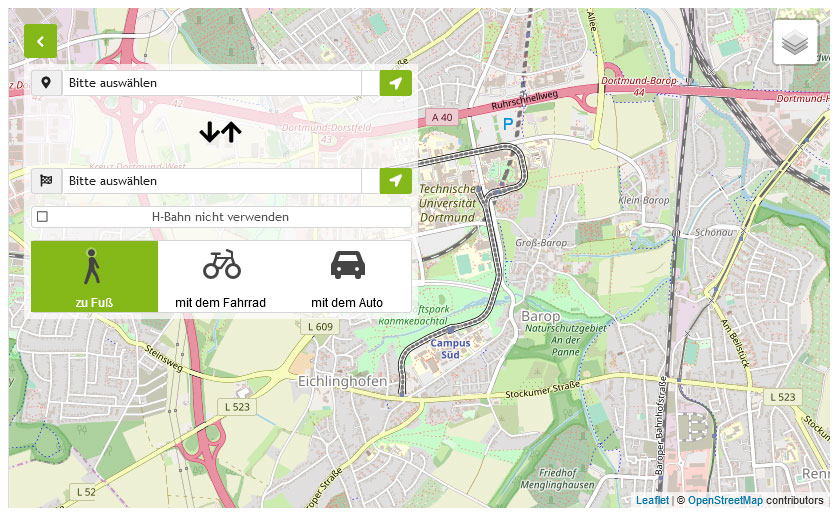 Zum Lageplan