How to apply at the Department of Spatial Planning at TU Dortmund - Step by Step:
Have you finished your studies and want to start a doctoral degree at the Department of Spatial Planning? There are several steps to keep in mind.
The PhD process isn´t provided by TU Dortmund itself and there is no central admissions office for the university. Instead all departments at the TU Dortmund University organize the PhD process individually, regulate the admissions processes and take care of their doctoral candidates.
The most important information is as follows:
Step 1: Supervision Acceptance
To achieve a doctoral degree you need a supervisor who advises and supports you in choosing the theme and methodology, project planning and individual advanced training. The Supervision Acceptance is a written confirmation from a professor who agrees to mentor you during the PhD Procedure.
To obtain Supervision Acceptance and start the PhD Procedure, you have to ask a potential supervisor on your own. The supervisor has to be a member of the Department of Spatial Planning.
Step 2: Application for "Admission to the PhD procedure"
International applicants: Please attach the transcripts of your German or English language classes to your application
What should I prepare?
Choice of Doctoral Degree (i.e. Dr.-Ing. or Dr. rer. pol.)
Topic of your Dissertation
Abstracts, description of your methodology and process sheet
A Supervision Acceptance by a member of the Department of Spatial Planning
Proof of fulfilled admission requirements according to § 4 PromO in particular: Certified copies of your University Degree Certificate and your Higher Education Entrance Qualification
Curriculum vitae in tabular form
Your decision whether your dissertation is published as a manuscript or at least as three articles in scientific journals (cumulative dissertation)
Copy of your Identity Card
Step 3: Matriculation for a PhD at the TU Dortmund University
Documents to be submitted
Filled out Matriculation Registration Form
Officially certified copy of your University Degree Certificate
Officially verified copy of the Higher Education Entrance Qulification
Certificate of Exmatriculation
Copy of your Identity Card
Proof of Health Insurance (e.g. certificate of insurance)
Passport Photo
Debit authorization for Student Service's contribution and administration charge

Postal Address
TU Dortmund University
Department of Spatial Planning
PhD Committee
44221 Dortmund
Germany
Phone: +49 231 755-2238
Fax: +49 231 755-2620
E-mail: proma.rptu-dortmundde
Street Address
August-Schmidt-Straße 10
44227 Dortmund
Germany
South Campus, Building III, Room 3.212
Location & approach
The facilities of TU Dortmund University are spread over two campuses, the larger Campus North and the smaller Campus South. Additionally, some areas of the university are located in the adjacent "Technologiepark".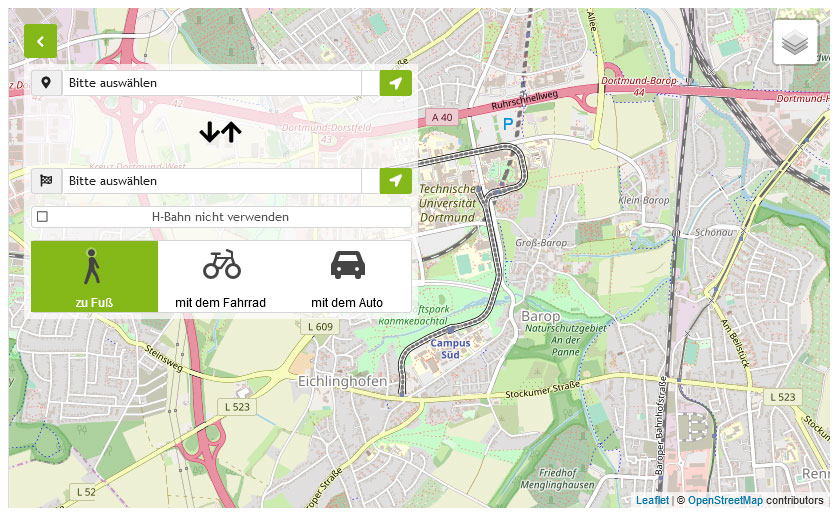 Zum Lageplan